Austria politician Strache loses 'public insults' court case

Austria politician Strache loses 'public insults' court case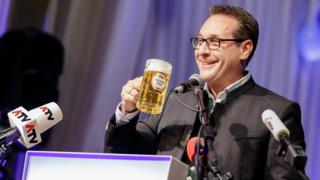 An Austrian court has said citizens have the right to swear or make obscene gestures at their politicians following a complaint by a far-right politician.
Heinz-Christian Strache, head of the Freedom Party, had argued that far-left activists had made "public insults" by criticising him in a video.
A Vienna court dismissed his complaint.
The right to "provocative and shocking" political opinion was a "fundamental part of freedom of expression," the court ruled.
The far left Linkswende Jetzt (Left Now) group had asked its supporters to raise their middle fingers to express their distaste with Mr Strache's participation in the Austrian government.
Kurz and charisma: What propels young leaders to power?
The beautiful flower with an ugly past
The group had produced a video which offered a series of reasons for supporters to declare "F*** Strache".
Separately, Austria's public broadcaster ORF this week filed a lawsuit against Mr Strache after he accused it and one of its news presenters of lying.
Mr Strache's party Freedom Pa rty is the junior coalition partner in Austria's right-wing government, led by the 31-year-old Sebastian Kurz from the conservative People's Party.
As well as Mr Strache's position, the far-right Freedom Party holds the foreign, interior and defence ministries in the coalition.
Source:
Google News Austria
|
Netizen 24 Austria